Are they Jack Kirby Shorts, or Marvel's?
May 2010
The debacle of how Jack Kirby and Marvel Comics split up over unfulfilled promises and expectations never put to (legal) paper is the stuff of books and history. But in May 2010, seeing a pair of men's shorts at the Chester Virginia Wal-Mart with Kirby's cover to Captain America #100 splashed across the fabric, the first thing I think of is "Is Kirby's estate getting a royalty?"
On top of this, news came out May 26, 2010 that the long expected Disney legal team is now going into the fight between the Jack Kirby estate and Marvel Comics.
Kirby's kids want copyrights for their fathers characters to be turned over to the Kirby Estate, and with the success that the Siegel and Shuster families had last year recapturing chunks of the Superman character base and mythos, you can see the beads of sweat popping out on the foreheads of Disney executives who shelled out $4 billion USD in cash and stock to acquire Marvel in 2009.
Aside from all the legal machinery turning on the copyright issues, there's the claim by the Kirby estate that credit due to Jack Kirby has not been forthcoming as Marvel continues to roll out film, TV and comic book projects. The grim fight for recognition that started in the 1970s about how Superman's creators were treated has spawned many similar battles in its wake, and this one with the Kirby family is a big one.
News reports are speaking of the vaunted Disney legal army that can paper its way through any fight and can reach well into the United States Congress in efforts to retain control over characters (see this Wikipedia article on the 'Mickey Mouse Protection Act'). But in the aftermath of seeing Siegel and Shuster's heirs get Superman back, anything is possible.
Why didn't Marvel treat Kirby better when they had the chance? I believe their actions is called "bearding the lion." Now they risk losing the whole thing.
Someone at Marvel might be asking itself, "Why didn't we just return Jack's goddamn artwork like we were supposed to?" (Scroll down midway to see "Hero Accounting")
Meanwhile, here's Jack Kirby's Mens Shorts:
Photo above credit: Erik Weems. All rights reserved. Photo May 2010 at Chester, Virginia, Wal-Mart store.
The price on the shorts was $17.00 USD
Here's what the artwork on these shorts is drawn from: Captain America #100 from 1968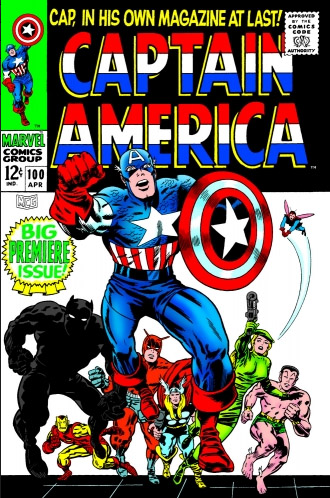 Related:
Walt Disney Company buys Marvel Comics / Jack Kirby Estate Claims
---
Captain America
Captain America The FIrst Avenger 2011 [film]
Captain America The WInter Soldier 2014 [film]
Captain America Civil War 2016 [film]
New Ultimates #5, March 2011, Frank Cho Captain America page
Captain America #637, Nov 2012, Francavilla page
---
Store rack superheroes
Superhero Cups 2013 - Spider Man, Batman, Marilyn Monroe
Marvel Comics
Avengers Assemble - stuffed dolls, 2013
Crayola Giant Coloring Pages with the Avengers
Sugar and spiders. See more Many Spiderman Cup Cakes
Jack Kirby Shorts - instore display with Captain America
Spider-Man - Hamburger Protection Services (Photo)
Spiderman Geek vs Christian Bale Dark Knight
Daredevil vs the Most Dangerous Man in the World
Ironman Movie 2 and Dr. Pepper Soft Drinks
DC Comics
He looks pretty angry. See the Mr Freeze Lego image larger.
Dark Knight Batman Lego Pajamas
Superman iconography on Rolling Stone Magazine, Jan 2013
Dark Knight Rises - Cardboard rack next to girls clothing
Dark Knight Rises - Cardboard Catwoman - Store Display
Dark Knight Rises Cardboard DVD/Toy and Bluray Display instore
Dark Knight Rises Theatre Posters
Dark Knight Rises - Mezitz Batman and Catwoman toys
Dark Knight Rises -Mez-itz Batman and Bane DKR toy set
The Dark Knight - Batman the chocolate bar
The Dark Knight - Batman the Dark Knight Cheerios
Super Hero jackets - Batman, Superman and Bazinga
Large Plastic Man Give Away Toy
Odd Couple - Batman and Merida from "Brave"
Misc Comics
Archie comics on the supermarket stand in Chesterfield Virginia
Jack Kirby
Fantastic Four #1, November 1961, Jack Kirby Cover
Fantastic Four #1, November 1961, Jack Kirby page
Amazing Fantasy #15, Aug 1962, Jack Kirby Spider-Man
X-Men #1, September 1963, Jack Kirby cover
Giant-Size Conan, 1975, Kirby cover with Elric
Tales of Suspense #39, March 1963, Jack Kirby and Don Heck Art
Kamandi #9, Sept 1973, The Murdering Misfit Splash Page
Captain America's Shorts - Jack Kirby Art